Fleet Enable names tech sales exec to lead growth charge
Michael Hegeman, VP Business Development for logistics software expert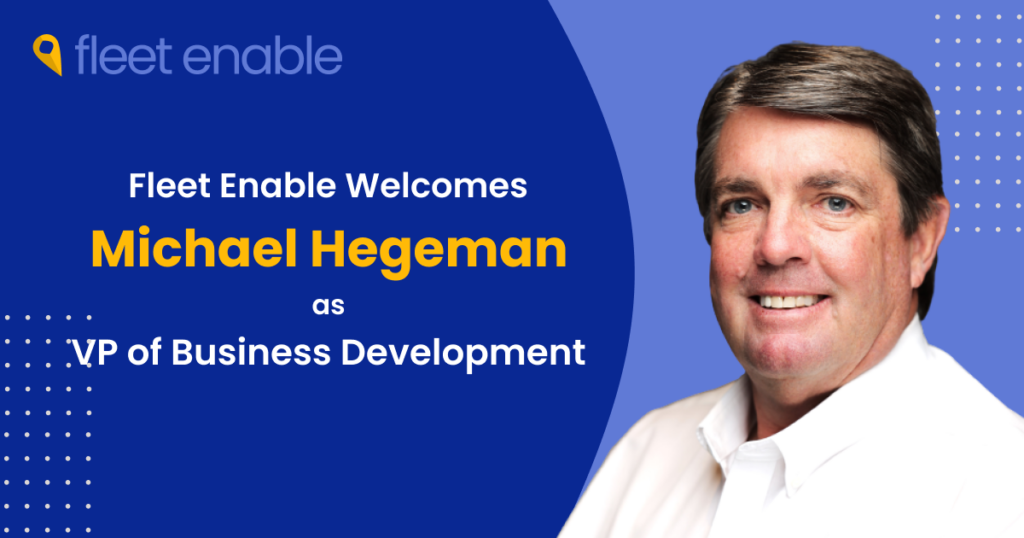 AUSTIN, TX, MAR. 23, 2023 – Logistics automation specialist Fleet Enable today named technology sales veteran Michael Hegeman its Vice President of Business Development. The software innovator said it selected Mr. Hegeman to harness booming demand for technology that streamlines supply chains.
Fleet Enable said Mr. Hegeman, a 15+ year sales technology veteran, would target the U.S. final-mile segment. Fleet Enable specializes in automating those firms that deliver freight to homes and offices. The company said Mr. Hegeman would have responsibility for sales and marketing units.
"There's a strong demand in the market for Fleet Enable technology," said company CEO Krishna Vattipalli. "A dedicated Business Development executive allows us to work with potential customers closely to understand their needs, and with Mike's experience in the final-mile sector, he'll show how technology can solve their problems."
Mr. Hegeman comes to Fleet Enable from eTrac Technologies, the supply chain visibility company. He previously held executive sales roles with firms including AT&T and Blackberry. Fleet Enable said it experienced unprecedented sales demand in the first quarter of 2023. It attributed the upsurge to final-mile motor carriers struggling to overcome supply chain disruption and increased competition. In response, Fleet Enable said it would invest throughout 2023 to further strengthen engineering, sales, and customer service capabilities.
"Carriers are underwater managing their operations, and desperately need to automate their processes," explained Mr. Vattipalli. "Fleet Enable is cloud-based and SaaS product which gives them access to modern technology at a low cost with continuous enhancements and excellent customer service."
Fleet Enable said its software digitizes all aspects of final-mile operations. The company said it has helped carriers automate everything from route design to fleet management and driver payroll. Fleet Enable said it could help customers reduce costs while improving their margins and enhancing their service.
About Fleet Enable
Austin, TX based Fleet Enable provides a logistics software platform designed to automate all aspects of the final mile delivery market. Fleet Enable automates everything from routing and scheduling to invoicing and driver pay. Fleet Enable's end-to-end Final Mile Management System makes enterprise-level technology accessible for all Carriers. Learn more about Fleet Enable at www.fleetenable.com.
For media inquiries: Mike Zampa, 925-282-0450, mike@tothepointcomms.com
Our end-to-end solution is truly customizable to your unique business.
Sign up for a demo to discuss how we can help you #DeliverBetter.